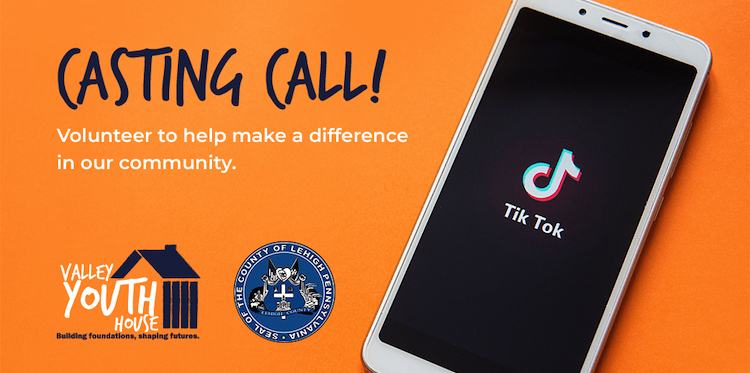 We want to create a drug and alcohol awareness campaign that will actually connect with young people in the Lehigh Valley and have a positive impact.
While youth substance abuse has always been a widespread issue, the COVID-19 pandemic worsened the problem in our community. In the Lehigh Valley alone, substance-abuse-related deaths have increased by 19%. Now more than ever, it is essential to educate our youth on healthy coping strategies and highlight the negative impacts of drug and alcohol abuse.
The Lehigh County Department of Drug and Alcohol and the Youth Education Program at Valley Youth House are teaming up to provide resources for our youth and families. In collaboration with First Generation, they are producing a series of video ads that will be seen by local TikTok users. By participating in these videos, you can help to bring awareness to these issues, as well as promote positive, healthy ways to combat substance abuse.
We will be choosing a handful of volunteer teen actors to star in the ads. Here are the details:
WHAT: Video Auditions for our local Drug & Alcohol Awareness Campaign
WHO: Local Lehigh Valley teens, ages 13 – 16
WHERE: Wherever you want! We will be accepting video audition submissions online, so where you shoot your video is up to you
WHY: To help bring awareness to the issues of drug and alcohol abuse by local youth and promote positive, healthy ways to combat substance abuse
WHAT YOU'LL NEED: Yourself, a smart phone, and parental consent
For instructions on how to perform your audition and submit your video, download the PDF below: