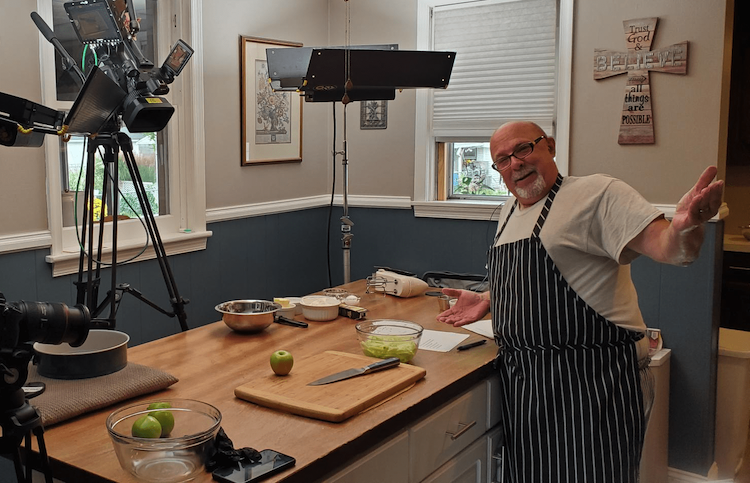 Recipe: Bavarian Apple Torte with Mascarpone filling and Walnut Topping
Welcome to Wayne's kitchen! Today we'll learn how to make Wayne's special Bavarian apple torte with mascarpone filling and walnut topping.
Prep: 20 min    Cook Time: 42 min    Total: 1 hr 5 min    Servings: 12
Ingredients
Crust:
½ cup butter, softened at room temperature
¼ teaspoon vanilla
⅓ cup sugar
1 cup flour
Cheese Mixture:
1  8-ounce package mascarpone cream cheese, softened at room temperature
¼ cup sugar
1 egg
½ teaspoon vanilla
Apple Mixture:
3 medium apples, peeled and sliced thin
(Note: I usually only use 2 apples and just make one layer of apples on the torte. If you like more apples, feel free to do more than one layer. I love Granny Smiths for this recipe.)
⅓ cup brown sugar
¼ teaspoon cinnamon
½ cup chopped walnuts
1 tablespoon turbinado sugar
Instructions
Preheat oven to 450º F.

Cream together crust ingredients until well mixed using a hand mixer or stand mixer. Press crust dough flat into the bottom of a springform pan. Set aside.
In a medium bowl, blend mascarpone cheese and sugar well with a hand mixer. Beat in egg and vanilla until smooth.
Pour mixture over crust.
Mix cinnamon and brown sugar together in a medium bowl. Toss apples in mixture then layer over the top of the mascarpone cheese mixture in the pan.
Bake for 10 minutes at 450

º

F. Reduce heat to 400

º

F and bake 25 minutes more. Sprinkle the top with walnuts and turbinado sugar and continue baking until lightly browned, 5-7 more minutes.
Cool before removing from pan. Run a knife around the edges of the springform pan before removing the side.
Enjoy!
---
Keep up to date with what's happening at First Generation. We offer a wide range of digital and print marketing solutions including video production & editing, digital marketing services, live digital event planning and production, website design, website maintenance, and SEO optimization for your business.
Also be sure to check out our sister company Technicom AV for full-service video production services.