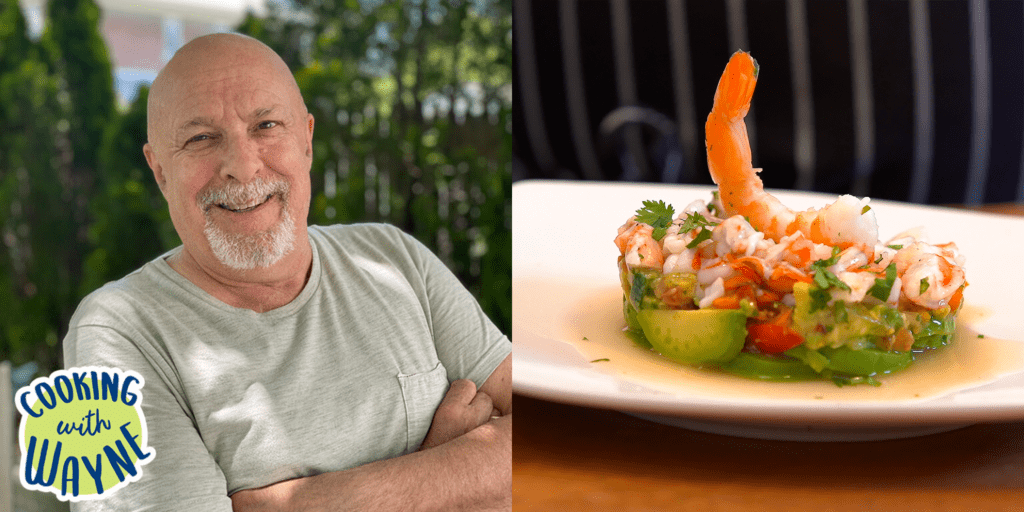 Recipe: Shrimp Ceviche with Avocado
Prep: 30 min    Total: 1 hr 30 min    Servings: 8
Ingredients
1 lb raw or cooked jumbo shrimp peeled, deveined & tails off
¾ cup fresh lime juice (about 6 large limes)
¾ cup fresh lemon juice (about 4 large lemons)
1 pint cherry tomato medley, quartered
1 large avocado medium dice
½ cup shallots small dice (Brunoise)
½ cup cilantro finely chopped
1 jalapeño seeded & small dice (Brunoise)
Salt and pepper to taste (I added about 1/2 tsp Kosher salt and Pepper)
Instructions
If using frozen shrimp, add it to a medium bowl and cover with cold tap water.

Thaw, changing water from time to time.

Squeeze juice from lemons and limes, add to a large bowl. DO NOT use bottled juice.
Drain shrimp and give it a gentle squeeze. Medium dice shrimp and add to the bowl with ½ cup lime juice and ½ cup lemon juice.
Marinate raw shrimp in refrigerator for ½ to 1 hour or until opaque and pink. Acid will "cook" the shrimp. Be sure to check the shrimp every 15 minutes or so. Do not overcook.
While shrimp is marinating, dice tomato, avocado, shallots, cilantro, jalapeño and add to another bowl. Add 1 to 2 tbsp of remaining lime and lemon juice and gently fold. Salt and Pepper to taste. Refrigerate if making ceviche with raw shrimp.
Once shrimp are ready, using a 4" ring mold, add vegetables to serving plate. Without removing ring mold, top vegetables with shrimp. Remove ring mold.
Garnish with Cilantro and Pickled Jalapeño.
Carefully add reserved marinade to plate, encircling shrimp and avocado.
Serve cold with tortilla chips, or on a tostada and even in tacos.
Remember tortilla chips are salty. I would salt after the taste test with a chip.
Enjoy!