Chicken Thighs marinated in yogurt and spices are a wonderful departure from the everyday barbecue, bringing an international flair to your next picnic or gathering.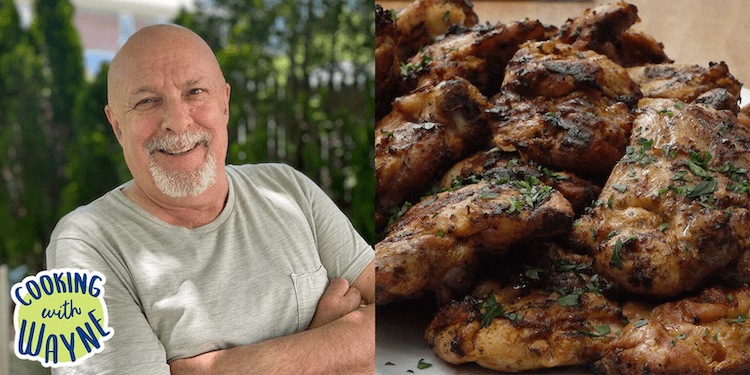 Recipe: Grilled Tandoori-Style Chicken Thighs
Ingredients
16 chicken thighs (Bone-in, skin and excess fat removed)
3 tablespoons neutral oil (Avocado or Vegetable)
12 oz plain Greek yogurt
4 teaspoons kosher salt

1 teaspoon

ground

black pepper 

½ teaspoon ground cloves

2 tablespoons freshly grated ginger
3 cloves garlic, minced
4 teaspoons paprika
2 teaspoons ground cumin
2 teaspoons ground cinnamon
2 teaspoons ground coriander
2 teaspoons cayenne, more for spicy (this is mild)
1 teaspoon ground turmeric
Lime wedges
Instructions
Heat the spices in oil.

H

eat the oil in a small pan over medium heat, then cook the

cinnamon,

coriander, cumin, turmeric, cayenne,

c

loves

and paprika, stirring often, until fragrant (approximately 2-3 minutes).

Do not let mixture burn.

Let cool completely. 

In a medium bowl, stir together yogurt, salt, pepper,

garlic

, and ginger. Mix in

the cooled toasted spices

. Set aside.

 

Remove chicken skin and excess fat. Pat dry with paper towels. Pierce chicken with fork in two or three places. Place chicken in a large resealable plastic bag. Pour yogurt mixture over chicken, press air out of bag, and seal. Turn the bag over several times to distribute marinade. Place bag in a bowl, and marinate in the refrigerator 4 hours, or at most, 8 hours, turning bag occasionally.
Prepare your grill. Prepare your grill so that one side is quite hot over direct medium-high heat, the other side cooler, not over direct heat. If using charcoal, leave one side of the grill without coals, so you have a hot side and a cooler side. If you are using a gas grill, just turn on one-half of the burners. Make sure your grates are super clean. Use tongs to wipe the grill grates with a paper towel soaked in vegetable oil.
Take the chicken out of the marinade and shake off the excess. You want the chicken coated, but not gloppy. Remove any remaining excess with a paper towel if necessary.
Put the chicken pieces on the hot side of the grill and cover. Cook 2-3 minutes before checking. Turn the chicken so it is brown (even a little bit charred) on all sides.
Move chicken to the cool side of the grill. Cover and cook for at least 25 minutes, up to 40 minutes (or longer) depending on the size of the chicken and the temperature of the grill. The chicken is done when its internal temperature is above 175 degrees F. Let it rest for at least 5 minutes before serving. Finish with a garnish of Cilantro and a squeeze of fresh lime. It's also great at room temperature or even cold the next day.
Serve with Raita (Indian Cucumber Sauce)
¾ cup whole milk plain yogurt (or sub coconut yogurt)
½ cup finely diced or grated cucumber (remove seeds first)
1 tablespoon finely chopped red onion (optional, sub chives or green onion)
2 teaspoons lemon or lime juice, more to taste
1 tablespoon olive oil
½ teaspoon cumin seeds, toasted, crushed (or use ground)
½ teaspoon coriander seeds, toasted, crushed (or use ground)
2-3 tablespoons chopped mint
2-3 tablespoons chopped cilantro
¼ teaspoon salt, more to taste
¼ teaspoon pepper
For heat, add 1-2 teaspoons finely minced serrano peppers- optional
Garnish with fresh herbs, chive blossoms or chili flakes
Place all ingredients in a bowl and stir.
Refrigerate until ready to serve.
Enjoy!