I'm excited to share some of my original recipes! Here's how to perfectly grill Mediterranean Pork Tenderloin: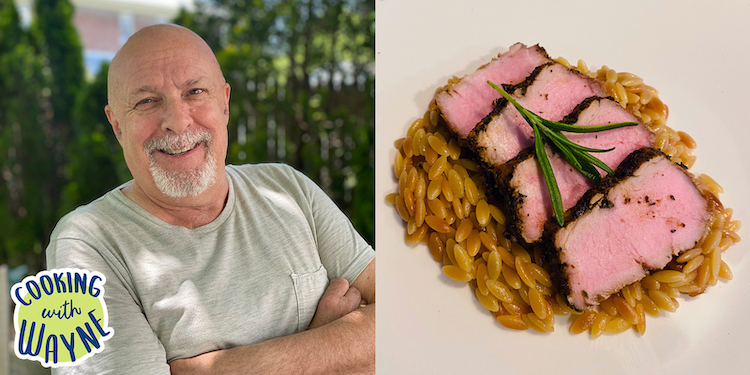 Recipe: Grilled Pork Tenderloin
Serves 2 to 4
Ingredients
1 pork tenderloin (1 to 1 1/2 pounds)
¼ cup Mediterranean Rub
¼ cup Olive Oil
Equipment
Gas or charcoal grill
Small bowl
Sharp knife and cutting board
Instructions
Remove silver skin from tenderloin.
Make the rub. See separate instructions.
Rub the tenderloin. Mix ¼ cup of the spice rub with ¼ cup of Extra-Virgin Olive Oil onto the surface of the tenderloin and let marinate for 2 hours, then preheat the grill.
Prepare the grill for zone cooking. For a gas grill, heat one side to high or medium-high heat and leave the other side unlit. For a charcoal grill, light a chimney of coals, pile the coals on one side of the grill, and leave the other side empty.
Grill the tenderloin for 15 to 20 minutes. Place the tenderloin over direct heat. Cover and cook, flipping the tenderloin only once, 4 minutes per side. Move the tenderloin to indirect heat, and continue to cook covered until it reaches the correct internal temperature, 140°F to 145°F, up to 20 minutes total time.
Rest the tenderloin. Remove the tenderloin from the grill to a clean cutting board and tent loosely with aluminum foil. Rest for 10 minutes – the meat will continue to cook from residual heat and the juices will redistribute for best flavor.
Slice and serve. Slice into 1-inch medallions before serving.
Finish with Dijon Beurre-Blanc. See separate instructions.
Mediterranean Spice Rub (For Grilling, Roasting)
2 Tbs. kosher salt
1 Tbs. black pepper
2 Tbs. dried oregano
2 Tbs. smoked paprika
2 Tbs. dried thyme
1 tsp. dried marjoram
1 tsp. dry mustard
1 tsp. crushed dried rosemary
Mix all ingredients together in a small bowl, using a whisk. Make sure to break up any clumps while mixing thoroughly.
Store in an air-tight container.
To make grilling/roasting paste: mix ¼ cup spice rub to about ¼ cup Extra-Virgin Olive Oil or until desired consistency. Rub all over pork tenderloin prior to grilling or roasting. Coat evenly and let marinate for at least 2 hours for best flavor.
Bring pork to room temp before grilling.
Makes 3/4 cup
Dijon Beurre-Blanc
1/4 cup dry white wine
3 tablespoons lemon juice
2 teaspoons Dijon mustard
1/2 shallot (peeled, finely minced)
1 stick unsalted butter (chilled, cut into cubes)
Kosher salt and freshly ground white pepper (to taste)
In a medium saucepan, add wine, lemon juice, Dijon mustard and shallots. Stir to combine and bring to a boil. Lower heat to a simmer and reduce by half, about 2 minutes. Reduce heat to low and then add butter by continuously whisking the liquid and adding one cube at a time. Wait to add the next cube until the previous one added has fully melted. Remove from heat and season to taste.
Enjoy!